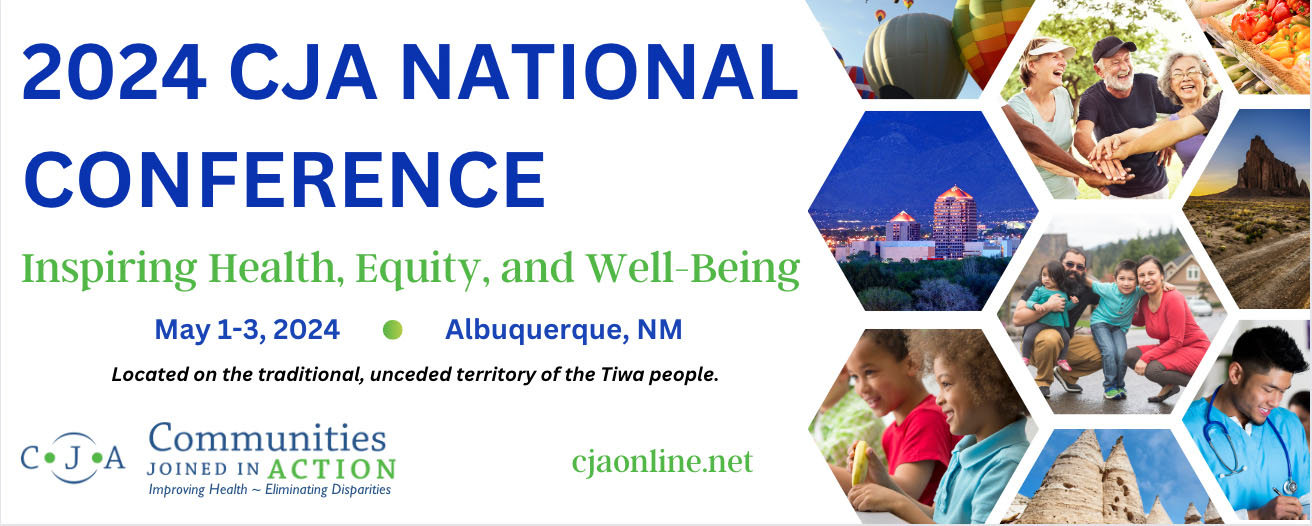 Communities Joined in Action National Conference
Inspiring Health, Equity, and Well-Being
Hotel Albuquerque
Albuquerque, New Mexico
May 1-3, 2024
The call for abstracts is now closed. All submissions will be scored and notified of acceptance status on a rolling basis by mid-December. Should you have questions, please email convenings@texashealthinstitute.org
Communities Joined in Action, or CJA, is a national nonprofit organization that facilitates the acceleration and dissemination of best practices and tools, facilitates formal learning opportunities, and supports community health collaboratives to improve health and eliminate disparities. In short, CJA works to achieve 100% access and zero disparities.
The 2024 CJA National Conference is taking place May 1-3, 2024, in Albuquerque, New Mexico. With a theme of "Inspiring Health, Equity, and Well-Being," this is a national gathering for people like you who are passionate about improving health, increasing access, and eliminating disparities.
Thank you for all of the applications received for breakout sessions and pre-conference workshops that speak to the theme of "Inspiring Health, Equity, and Well-Being" within the following topic areas:
Organizational Effectiveness / Workforce: Sessions in this category share short- or long-term strategies for attracting and maintaining an exemplary board and workforce for their organization. These can be activities or policies at the program, organizational, or policy level. These sessions can be related to work/life balance, professional development, recruiting and retaining diverse teams, and fostering employee and board engagement.
Financing and Sustainability: Sessions in this category share successful methods of sustaining financing and fundraising, from health insurance payments and state budget appropriations to grants and donations. What were the nuts and bolts of developing fundraising ideas into strategies to raise revenue for your organization or project? What was the overall timeline to get to success? How have you measured or demonstrated ROI and outcomes?
Innovative Initiatives: Sessions in this category share effective programs, policies, and systems changes to promote equity, improve health, and eliminate disparities in communities. Presenters will share how they identified the priority population(s) or health condition(s), how community members were engaged, what evidence supported the initiatives, and their outcomes.
Partnering and Community Engagement: Sessions in this category share successful methods of developing and sustaining community engagement and partnerships. How did you decide with whom to develop new partnerships? How did you approach community engagement, and how do you sustain it today?
Social Determinants of Health Focus: The Centers for Medicare and Medicaid Services (CMS) has taken an important step in implementing new rules, effective January 2024, that require hospitals to screen all in-patients for 5 SDOHs: food insecurity, transportation, housing, help with utilities, and personal safety. For more information: An Intro to CMS's SDOH Measures (medisolv.com). CJA is interested in abstracts from programs that are working to improve community health by linking medical and social needs and/or collaborating with hospitals to provide seamless referrals for individuals identified as at-risk through the new mandated screening processes, including programs that assist in meeting value based contracting and 1115 waiver work/models.
CJA is on the ground in more than 1,000 communities across the country and has a track record of working towards success in large cities and small rural communities. Conference participants represent community networks/coalitions, community-based organizations, hospital/health systems, public health, regional and local health collaboratives, safety-net organizations, health plans, community development corporations, city and county government, universities, philanthropy, housing, food systems, and community health advocates.
A copy of the application can be found here for reference.
For questions about the call for abstracts or the conference, please contact convenings@texashealthinstitute.org