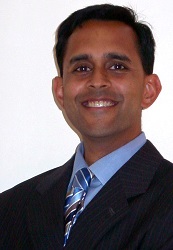 Darshak Sanghavi, MD
Director
Preventive and Population Health Care Models Group
Center for Medicare and Medicaid Innovation
Centers for Medicare and Medicaid Services
www.cms.gov
Darshak Sanghavi, MD, is the Director, Preventive and Population Health Models Group at the Center for Medicare and Medicaid Innovation, where he oversees the development of large pilot programs aimed at improving the nation's health care costs and quality. Recently, he was the Richard Merkin fellow and a managing director of the Engelberg Center for Health Care Reform at the Brookings Institution, where he directed efforts to better engage clinician in health care payment and delivery reform. Sanghavi is also associate professor of pediatrics and the former chief of pediatric cardiology and at the University of Massachusetts Medical School, where he was charged with clinical and research programs dedicated to children's heart defects. An award-winning medical educator, he also has worked in medical settings around the world and published dozens of scientific papers on topics ranging from the molecular biology of cell death to tuberculosis transmission patterns in Peruvian slums. A frequent guest on NBC's Today and past commentator for NPR's All Things Considered, Darshak is a contributing editor to Parents magazine and Slate's health care columnist, and often writes about health care for the New York Times, Boston Globe, and Washington Post. His best-seller, A Map of the Child: A Pediatrician's Tour of the Body, was named a best health book of the year by the Wall Street Journal. He speaks widely on medical issues at national conferences, advises federal and state health departments, and is a former visiting media fellow of the Kaiser Family Foundation and a winner of the Wharton Business Plan Competition. He previously worked for several years as a U.S. Indian Health Service pediatrician on a Navajo reservation. Educated at Harvard College and Johns Hopkins Medical School, Darshak completed his pediatrics residency and cardiology fellowship at Harvard Medical School and Children's Hospital Boston.