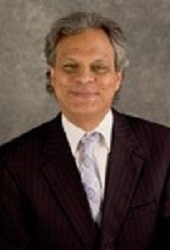 Eduardo Sanchez, MD, MPH
Chief Medical Officer
American Heart Association
www.heart.org
Eduardo Sanchez, M.D., M.P.H., FAAFP serves as Chief Medical Officer (CMO) for Prevention for the American Heart Association (AHA). He brings an interest and experience in prevention and population health to AHA. He served as Deputy Chief Medical Officer for the AHA from April 2013 through 2014. Prior to joining AHA, he served as Vice President and CMO for Blue Cross and Blue Shield of Texas (BCBSTX).   Dr. Sanchez led the Institute for Health Policy at the University of Texas (UT) School of Public Health as director from 2006 to 2008. From 2001 to 2006, he served as Texas' state health officer, Commissioner of the Texas Department of State Health Services from 2004 to 2006 and the Texas Department of Health from 2001 to 2004. And he served as the local public health officer in Austin-Travis County from 1994 to 1998. Dr. Sanchez currently serves as Chair of the National Commission on Prevention Priorities and the Texas Public Health Coalition. From 2008 to 2012, he served as chair of the Advisory Committee to the Director of the Centers for Disease Control and Prevention (CDC).  He serves on the Institute of Medicine's Roundtable on Obesity Solutions and on the Board of Directors of Trust for America's Health, AcademyHealth, the Public Health Institute, and the CATCH Global Foundation. Dr. Sanchez obtained his M.D. from the University of Texas (UT) Southwestern Medical School in Dallas, an M.P.H. from the UT Health Science Center at Houston School of Public Health, and an M.S. in biomedical engineering from Duke University. He holds a B.S. in biomedical engineering and a B.A. in chemistry from Boston University.  Dr. Sanchez is board certified in family medicine.